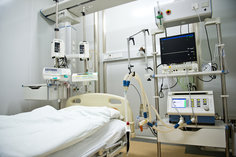 When you are a child, your parents serve as your decision makers. They have ultimate say in where you go to school, what extracurricular activities you partake in and where, and how you should be treated in the event of a medical emergency. While most parents continue to play a huge role in their children's lives long after they reach adulthood, they lose legal decision-making authority on that 18th birthday. Most young adults don't contemplate who can act on their behalf once this transfer of power occurs, and consequently, they fail to prepare advance directives.
In the event of a medical emergency, if a young adult is conscious and competent to make decisions, the doctors will ask the patient about his or her preferred course of treatment. Even if the individual is unable to speak, he or she may still be able to communicate by using hand signals or even blinking one's eyes in response to questions.
But what happens in instances where the young adult is incapacitated and unable to make decisions? Who will decide on the best course of treatment? Without advance directives, the answer to this question can be unclear, often causing the family of the incapacitated person emotional stress and financial hardship.
In instances of life-threatening injury or an illness that requires immediate care, the doctors will likely do all they can to treat the patient as aggressively as possible, relying on the standards of care to decide on the best course of treatment. However, if there is no "urgent" need to treat they will look to someone else who has authority to make those decisions on behalf of the young individual. Most states have specific statutes that list who has priority to make decisions on behalf of an incapacitated individual when there are no advance directives in place. Many states favor a spouse, adult children, and parents in a list of priority. Doctors will generally try to get in touch with the patient's "next of kin" to provide the direction necessary for treatment.
A number of recent high-profile court cases remind us of the dangers of relying on state statutes to determine who has the authority to make healthcare decisions on behalf of the ill. What happens if the parents of the incapacitated disagree on the best course of treatment? Or what happens if the patient is estranged from her spouse but technically still married- will he have ultimate say? For most, the thought is unsettling.
To avoid the unknown, it's highly recommended that all adults, regardless of age, work with an estate planning attorney to prepare advance directives including a healthcare power of attorney (or health care proxy) as well as a living will which outline their wishes and ensure compliance with all applicable state statutes.