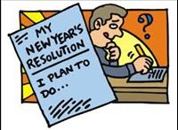 It is that time of year again: a time when people make their "to do" lists for the coming year.
Many intend to lose weight or get more exercise; others set up savings plans, socking away a portion of each paycheck to fund their retirement or a family vacation. Another item that should be on every Pennsylvanians list of New Year resolutions should be to update or establish an estate plan.

Estate planning makes it possible to leave a legacy to your children and your children's children by setting up ways to do the following:
Transfer wealth
Protect assets
Minimize taxes

Additionally, an estate plan provides you with a way to provide financial assistance to family members who have special needs. For example, a special needs trust allows you to plan continued care for a loved one who may suffer from a disability, mental or physical illness or is simply unable to make wise choices regarding his or her own financial or personal needs. Careful planning allows you to designate a guardian, conservator or trustee to handle that person's affairs after you are unable to do so yourself.

Getting Started

Many people are uncomfortable discussing end-of-life planning. While you may already have an estate plan, have you discussed it with your family? Often, surviving family members have questions that only you can answer and, too frequently, family disputes arise after the loss of a parent, favorite relative or another family member. Such squabbles can lead to litigation over an estate, years of hard feelings or permanent estrangement.

If you have not recently reviewed your plan or you do not currently have an estate plan, following are some initial steps you should take now, before the New Year begins:
Just do it: Estate planning is less about dying than it is about providing for your loved ones while maintaining control and protection of your assets. Take that first step and start the estate planning process now.
List your assets: Create an inventory of items you currently own and assets to which you have future rights. List personal items and identify which members of your family will receive them after you are gone. According to The Wall Street Journal, keepsakes and mementos are far more important to your loved ones than money and family fights are often regarding family heirlooms. 
Identify decision-makers: Every estate plan should include documents that assign those who can make decisions on your behalf should you no longer be able to make your own. Powers of attorney and health care directives establish who may make your financial and medical care decisions. A guardian should also be named for minor children under your care.
Consult a Lawyer

An experienced estate planning attorney can guide you through the estate planning process, setting up wills and trusts that will ensure that your wishes are carried out. Make it your New Year's resolution to consult a Pennsylvania lawyer knowledgeable about planning and probate avoidance.